From the birds & bees to the lakes and the trees..."
Nestled in Itasca county in Northern Minnesota and deep within the Chjippewa National Forest, Sand Lake is home to many and a welcome retreat for others. We boast friendly people, a rich history and premier walleye fishing.

The Sand Lake Property Owner's Association is a tax-exempt non-profit association whose two main goals are to improve fish management and water quality in our lakes. Our association is managed 100% by Lake Owner volunteers. There are no salaries. We operate completely on Dues and Donations.

Sand Lake is located in the heart of the Chippewa National Forest in the well-known Bowstring Chain of lakes. Sand Lake is a 4,328-acre naturally fed lake with direct access to Bowstring Lake, Little Sand Lake, the Bowstring River, Rice Lake, Birds' Eye Lake, Portage Lake, Dora Lake and the Bigfork River. It is eight miles long and four miles wide with a maximum depth of 70 feet, a median depth of 17 feet, and 19.9 miles of beautiful shoreline. It holds an abundance of  Walleye, Northern Pike, Large & Small Mouth Bass, Jumbo Perch, Crappies and Pan Fish.


                Carole Olson, President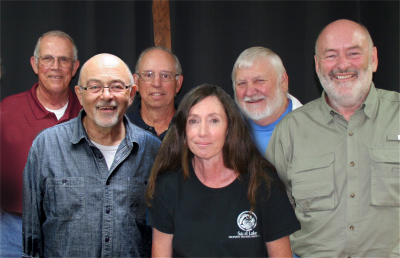 BOARD OF DIRECTORS
Sand Lake Property Owners AssociationBoard of Directors, Officers & Volunteers 2016/17
President: Carole Olson
Phone: 218- 659-4757


Vice President: Gary Weaver
Phone: 218-659-2707 or


Treasurer: Chuck Baker
Phone: 218-659-2955


Secretary: Bernie Troje
218-659-2709


Directors:


Myron Hahn 
Phone 218-659-2668 


Stafford King 
Phone 218-659-2146


Volunteers:


John Perkins:

Sand Paper Editor & Web: 

​    jfpc2@paulbunyan.net
(Left to Right)
Victor Warnement, Chuck Baker, Gary Weaver, Myron Hahn, Stafford King, Carole Olson. Not pictured - Bernie Troje

Sand Lake Property Owners Association Mission Statement:

Protecting the environment of Sand, Little Sand, Portage, and Birds Eye Lakes and surrounding area. This includes a program to prevent aquatic invasive species (AIS) from entering or leaving the lakes, catch and release emphasis, Adopt-a-Highway, new lake resident's orientation, and ongoing public education. All of this is coordinated with association members and the MN Dept of Natural Resources.